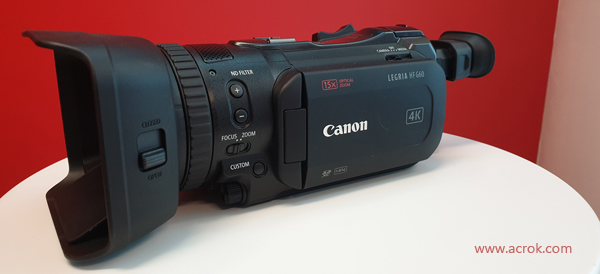 By
admin
If you're facing problems editing Canon VIXIA HF G60 4K MP4 in FCP X or Premiere Pro CC, the easy option is to convert MP4 to a compatible format like ProRes MOV or MPEG-2 MPG.
About Canon VIXIA HF G60
The VIXIA HF G60 is a high-quality camcorder that can deliver serious results, providing an outstanding combination of 4K UHD image quality, features and functionality in a compact, portable design. Featuring a 1.0-inch 4K UHD CMOS image sensor and a DIGIC DV 6 Image Processor, the VIXIA HF G60 records in convenient MP4 format to dual SD card slots. The camcorder is capable of recording 4K UHD video at 30p, as well as slow motion recording up to 60fps in Full HD (30 fps in 4K UHD). A 15x optical zoom lens maintains 4K UHD quality throughout the entire zoom range, while the camcorder's Dual Pixel CMOS AF helps facilitate fast and accurate autofocus.
How to edit Canon VIXIA HF G60 4K MP4 in FCP X?
"All my video is 4K MP4 from a Canon VIXIA HF G60. I have an hour of footage loaded into Final Cut Pro X, and I currently cannot even load the project without it crashing. You can see that it is having trouble by looking at the wave forms in the audio files. The wave forms break up. Does anyone have a suggestion of what to do?"
Although the new version of FCP X supports 4K now, when you tried to do some editing 4K MP4 videos with FCP X, you're prompted an error message on your screen or even a sudden crash like above we quoted. As we all know, the most compatible video codec for FCP X (10.0.0-10.0.9 ) is Apple ProRes and 1080P is better for editing. Then transocoding VIXIA HF G60 files to ProRes 422 or ProRes 4444 (in 1080p) with a third party program is an easy way to edit your VIXIA HF G60 MP4 videos in FCP X.
To fulfill your task, you can adopt Acrok Video Converter Ultimate for Mac for help. With it, you can convert any types of 4K files including MOV, MP4, MXF, MKV to FCP X supported formats with least quality lose. What's more, this software convert all popular video formats no matter in SD/HD/4K To Sony Vegas Pro 17, Adobe Premiere Pro CC, iMovie, etc natively supported video formats with fast encoding speed.
Free download Canon 4K MP4 Converter
How to Convert and Import Canon VIXIA HF G60 4K MP4 to FCP X
1. Import MP4 Files
Run the professional 4K video converter program by clicking "Add file" button, or drag Canon VIXIA HF G60 MPEG-4 AVC/H.264 videos to the software directly.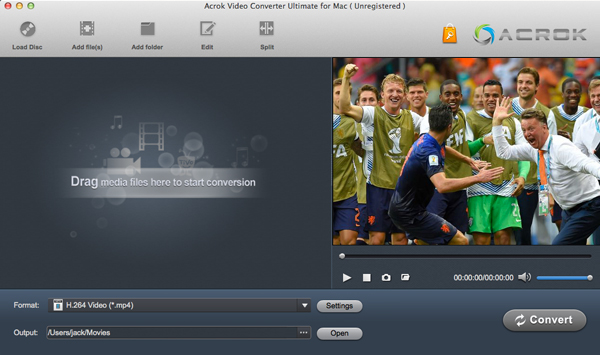 2. Select FCP X Friendly Format
Click "Format" bar and choose "Final Cut Pro" then select "Apple ProRes 422 (*.mov)" as output format on the drop-down menu. You can also choose "Apple ProRes 4444 (*.mov)" as the final format.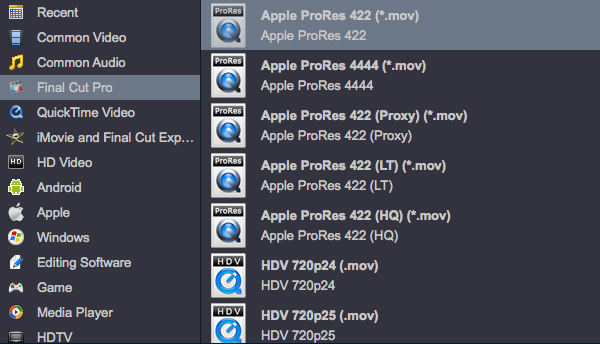 Tip: Before conversion, you can click the "Settings" icon to customize the video/audio settings Bitrate of Video and Audio, the Codec of Video and Audio, Video Size, Sample Rate, Frame Rate, Audio Channels, etc. for FCP X. You are suggested to downscale 4K to 1080p for easier editing. If your FCP X can handle 4K resolution videos, please select "Orginal" in Resolution column.
3: Start Video Conversion
Click the Convert icon under the preview window, and the program will start transcode Canon VIXIA HF G60 files for FCP X. When the conversion is finished, you can click "Open" button to get the generated .mpg files effortlessly. Afterwards, you can import converted clips into FCP X as we as FCP 7 and FCP 6 for further editing.
How to edit Canon VIXIA HF G60 4K MP4 in Premiere Pro CC?
Many users are puzzeled by one thing that some files with MP4 file extension can't be imported into Adobe Premiere Pro (Premiere Pro CC included). Although Adobe claims that Premiere Pro CS5 and above (Premiere CS6, CC) offer native support for MP4 format, MP4 files, which may be from different sources, such as from some video editing software, or from different Nikon/Canon/Panasonic cameras, have different codec inside. If your Canon VIXIA HF G60 files are not accepted by Adobe Premiere Pro, it's probably because of the video or audio codec incompatibility. Fortunately, there is an easy solution to resolve the Canon VIXIA HF G60 and Adobe Premiere Pro importing problems. Keep on to learn more details.
In order to import Canon VIXIA HF G60 files to Premiere Pro, the easy workaround is to transcode Canon VIXIA HF G60 footage to Adobe Premiere editing-friendly formats like MPEG-2. This will allow for the software to work smoothly. The process to convert the 4K MP4 files to Premiere Pro is fairly easy as long as you have such a tool like Acrok Video Converter Ultimate. By running it, there's no need to set the codec yourself: the program has optimized presets for Adobe Premiere (Premiere CC included). You can convert any video file to Adobe Premiere compatible format with loss-less quality.
Free download Canon VIXIA HF G60 Video Converter
How to convert Canon VIXIA HF G60 MP4 for importing to Premiere Pro
1. Load videos to the program
Launch the Canon Video Converter, and open the folder where you have saved the .mp4 files, and then directly drag the files to the program interface, the files will be loaded to the program immediately. Alternatively, you can click "Add file" button to import the Canon VIXIA HF G60 videos to the software.
2. Choose the output format
The program has three already optimized the video settings for Adobe Premiere Pro. You can select MPEG-2, MOV or WMV from "Editing Software" as the output format. All output videos will keep the original quality of MOV video and seamlessly fit Adobe Premiere Pro CC, CS6, CS5, CS4 and more.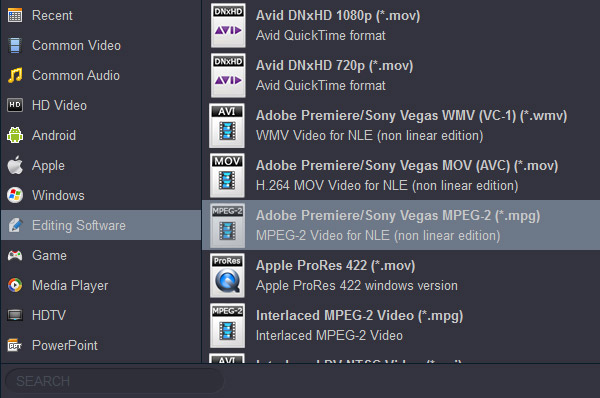 3. Start converting MP4 videos
The file is now ready to be converted and that is done by clicking on the covert button on the menu. The software will take care of the rest and the user will now have the file in a format that can be used with Premiere Pro CC/CS6/CS5.