By
admin
Are you looking for the best Blu-ray Ripper software to convert Blu-ray to H.265 MKV, H.265 MP4, H.265 MOV or H.264 files? In this article we will share the best blu-ray ripper software which can convert blu-ray disc, blu-ray ISO or blu-ray folder movies to H.265 MKV, MP4 or MOV format, and you can also use it to rip blu-ray to H.264 files, 3D Blu-ray movies are also supported to convert.
How to backup Blu-ray to H.265 files?
"Hello, recently I want to backup my blu-ray disc collections to H.265 files and then save on HDD. I am thinking about getting your Ultimate Converter Package but some questions. I tried a trial with sample and had a Blue Ray Star Trek movie that I wanted to convert over to a H.265 Video. Well it was taking less time compared to the program I used before. There are 2 programs similar to yours called Make MKV and DVDfab, but I think your program is better than them. I am trying to rip my blue ray collection to the best quality format for the computer/TV. What would be my best format? I hear MP4 or MKV but from what I read the H.264 and H.265 were the better ones.
That is where I want to start, I want a great quality ripper and would love to find software that would let you watch blue rays which I can't find a good one right now. I want one that will eventually be able to rip Blu-ray movies and have a lifetime of updates too and great support as well. Let me know. Thanks."
The question showed above is asked by a blu-ray user, he want to backup blu-ray to H.265 or H.264 videos in the format like MKV, MP4, MOV, etc. maybe you also have the need to backup Blu-ray to H.265 MKV, MP4 or MOV format, in order to help you backup blu-ray movies easily, we want to introduce the best Blu-ray Ripper software for you, the program is called Acrok Video Converter Ultimate, it's the best blu-ray ripper software on the market, it has the ability to convert purchased blu-ray disc movies to unprotected common videos, such as convert blu-ray to H.265 MKV, convert blu-ray to H.265 MP4, convert blu-ray to H.265 MOV, etc. the main features are showed below.
Main feature of Acrok blu-ray ripper software
Support any kinds of Blu-ray & DVD movies
Provide 250+ optimized settings (150+ popular devices included)
Create 3D movies from DVD and 2D/3D Blu-ray
Edit and personalize DVD/Blu-ray instantly
6X faster while keeping excellent video quality
Support H.265/HEVC output video format
How to backup Blu-ray to H.265 MKV, MP4 or MOV format?
Step 1: Load Blu-ray to Acrok Blu-ray Converter software
Download and install Acrok Video Converter Ultimate on your computer, run it you will see the main interface, to load blu-ray or DVD disc movies, please click "Load Disc" button on the top left corner.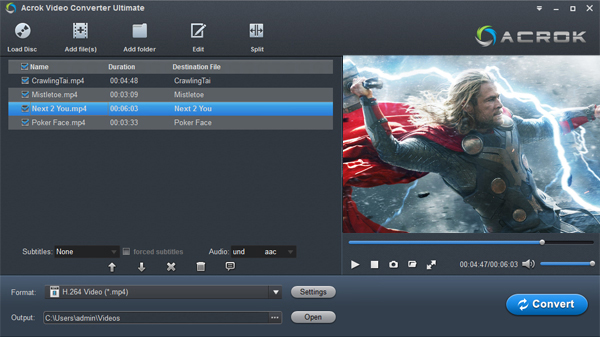 Step 2: Define output file format
You can backup Blu-ray to H.265 MP4 or H.264 MP4 format, H.264 MP4 is recommended, it is highly compressed with H.264 codec. It is a small video format that has perfect compatibility with many portable devices and media players. Just click on "Format" bar, go to "Common Video", then select "H.264 Video (*.mp4). If your device supports H.265 codec, you can also compress Blu-ray to H.265 MKV, MP4 or MOV format.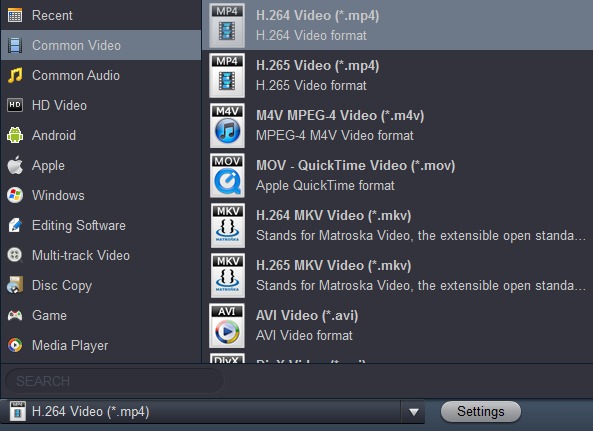 Step 3: Adjust output profile parameters
Click "Settings" button behind Format bar, to open "Profile Settings" window. You can change output video resolution to 1280 x 720, this is 720p resolution which can offer clear image for you, and it is more preferable by many portable devices such as iPhone, iPad, Android phone and tablet, etc and video sharing sites like YouTube, Facebook and Vimeo.
Step 4: Backup Blu-ray to H.265 or H.264 files
Hit on the right-bottom "Convert" button to start backup Blu-ray to H.265 MKV, MP4 or MOV format. After a few minutes, you will get your Blu-ray movies converted.
Some tips for you to backup Blu-ray movies:
We don't recommend you to convert Blu-ray to H.265 video, as the H.265's technology is not widely adapted than H.264, the conversion time of H.265 is longer than H.264.
Acrok often release the updated version that supports the latest discs, once you purchased the license code you can get lifetime updates for free.
Compared to other ripping programs, Acrok is better in the latest discs support and rich optimized output formats, include the quality lossless output format.
The best format we recommend is Multi-track Video -> Multi-track MKV output format, this format can maintain all the original subtitles, audio tracks and languages for you, and then you can choose any subtitle or language you want.