By
admin
The Canon High Definition Camcorders (Canon XF305, XF300, XF205, XF200, XF100, XF105) offers very high quality HD recording at a date rate of up to 50Mbps using the MPEG-2 4:2:2 compression. It also provides multi-format recording flexibility including 1080i, 720P and SD, which comes with HD/SD conversion and cross conversion between 1080i and 720P. Utilizing file-based MPEG-2 compression with an MXF File Wrapper ensures the widest compatibility with existing industry infrastructure, metadata and non-linear editing (NLE) systems.
Some people choose to ingest the MXF files from the Canon XF205 via NLE system directly for footage editing. However, not all NLE apps support the 50Mbps format well. If this is the case, filmmakers need to convert the Canon XF205 MXF media to a format that is editable by their non-linear system. See a user question, "I have a Canon XF205 (broadcast) XDCAM HD camera, which shoots MXF-files. I would like to convert these MXF files to an editable format in Vegas Movie Studio 13 Platinum. How can I do this? I am working on windows 7 (32bit)."
Quick Answer:
With the fabulous Acrok MXF Converter software, you can convert the MXF footage shot with Canon XF205 camcorder to Sony editing software family recognizable format in a fast and easy way. You can download the free trial version to have a try before purchasing the full version.
Free download Canon MXF to Movie Studio 13 Platinum Converter
Core Features of this Canon MXF to Movie Studio 13 Platinum Converter
– Transcode MXF files for editing software with fast speed.
– Convert Canon/Panasonic/Sony/JVC MXF media files to WMV, MP4, MPEG, AVI, MKV, etc.
– Support 2D MXF files to 3D conversion for playing on 3D smart TV/HDTV.
– Offer presets for iPad Air, Surface Pro 3, Galaxy Tab S,  iPhone 6, Galaxy Note 4,  LG G3, Xperia Z3, HTC One and more
– Support batch conversion and merging multiple MXF files into one file
The steps to convert Canon MXF to Movie Studio 13 Platinum editable format
1. Load Sony MXF media files
Start up Acrok MXF Converter, click "Add video" or "Add from folder" button to load your source MXF files shot with Canon XF205 Camcorder.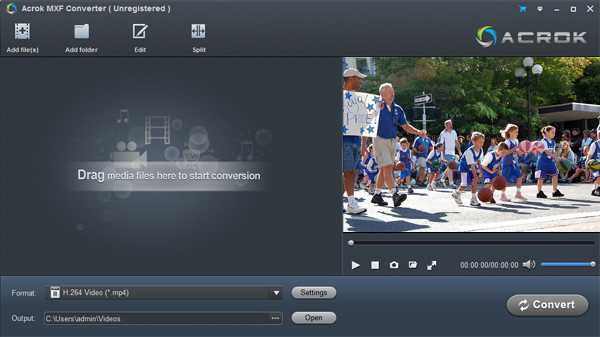 2. Select output format for Movie Studio 13 Platinum
Move to "Format" menu, and choose "Adobe Premiere/Sony Vegas MPEG-2 (*.mpg)" for Sony Movie Studio 13 Platinum from "Editing Software" category.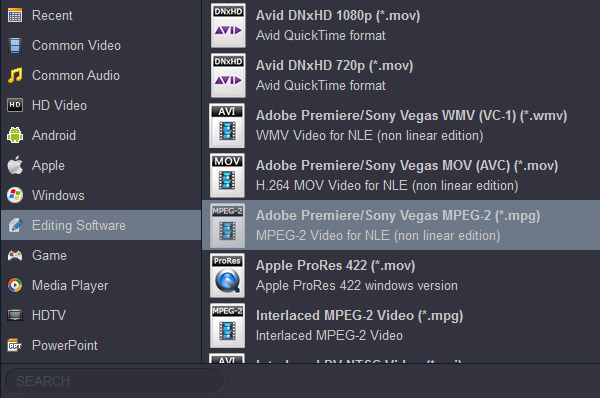 Sony Movie Studio 13 Platinum Native Format Support
AAC, AA3, AIFF, AVI, BMP, CDA, FLAC, GIF, JPEG, MP3, MPEG-1, MPEG-2, MPEG-4, MVC, OGG, OMA, PCA, PNG, QuickTime®, SND, SFA, W64, WAV, WDP, WMA, WMV, XAVC S
3. Adjust video and audio settings (optional)
Click "Settings" button to custom video and audio settings if necessary. When the "Profile Settings" window comes up, you can configure video and audio settings like resolution, bit rate, frame rate, sample rate and audio channels.
4. Start Canon MXF to Movie Studio Conversion
Click "Convert" button to start rewrapping MPG files for Movie Studio 13 Platinum from Canon MXF files. When finished the conversion, you can click "Open" button to get the generated MPG files.
Launch Sony Movie Studio 13 Platinum, and load the generated MPG files into your NLE system for making a video masterpiece, or uploading onto YouTube, or burning a DVD.